The Best Smart Thermostats Currently Available For 2021
Written by: Shreya Gairola
Want to smarten your home with smart gadgets?
Technology is evolving and is going to evolve in so many different ways. Over the past years, technology has been advanced and is transforming our way of living. With each new day, there is a new development in technology that is going on. This technology has introduced us to various gadgets, and the era in which we live is all about innovative technology.
Innovative technology is an advanced version of the technology. This technology is one of the most trending technologies these days. The word smart originally comes from the acronym self-monitoring, analysis and reporting technology but become extensively known as innovative.
Designing and decorating your home with smart gadgets are very popular these days. From colour-changing smart lights to smart surveillance, all work under your control. This turns your home into a glorious smart home and takes care of your safety. So, if you are finding to smarten your home, then your thermostat is a great place, to begin with. It can also help you to save a lot of money by plummeting your heating and cooling expenses. Let's find out more about the Best Smart Thermostats.
Smart Thermostat
Wondering what is so special about the smart thermostats!
Well, everything is unique about these thermostats. Smart thermostats are thermostats that can be utilized with home automation, and they are responsible for handling the home's cooling, heating, and ventilation. They have lots of benefits. The smart thermostat not only manages your home but also you can easily adjust these thermostats from your phone whether you are in your room or on vacation. Various smart thermostats also work with Alexa, Google Assistant and Siri, providing you with another way to adapt your settings with remote access to your smart systems.
A smart home thermostat is an energy-saving gadget that is great for the environment and the budget. Although not every smart thermostat are designed equal, some are just created to control the heating, cooling, and ventilation system. At the same time, others are also designed to offer basic scheduling and programming options. Some smart thermostat systems also use a motion sensor to determine whether you are home or away and automatically change the temperature. Some thermostats depend on a geofencing radius too.
The Best Smart Thermostats Currently Available for 2021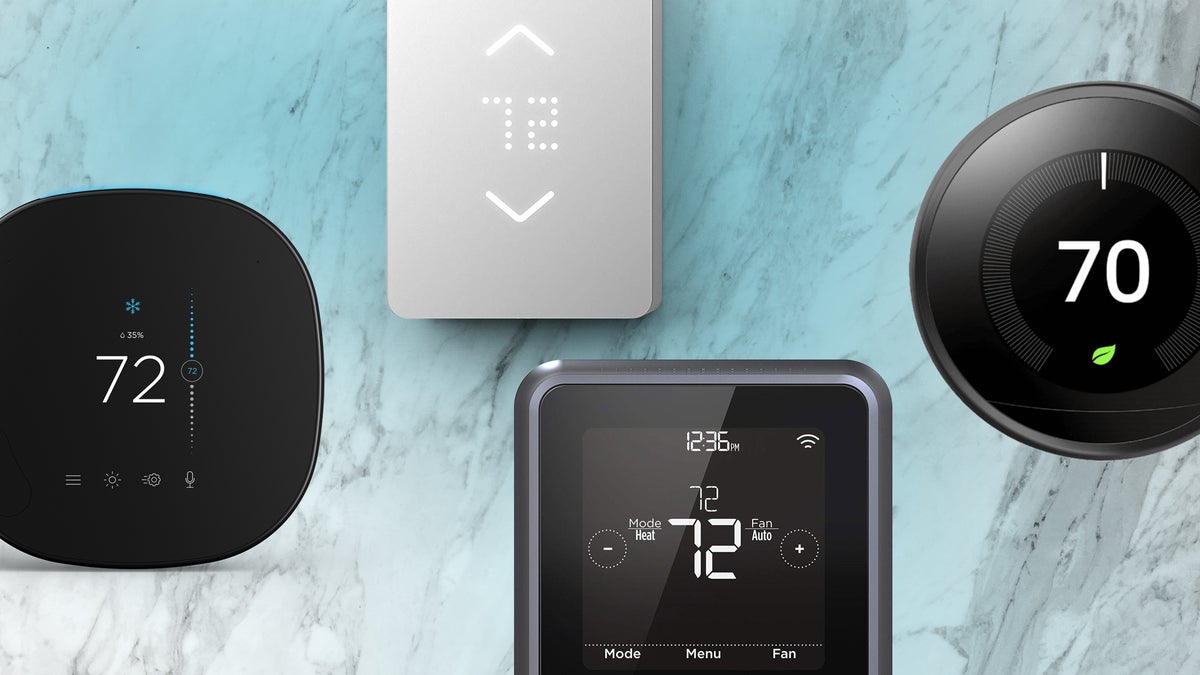 Ecobee Thermostat
Speaking of a smart thermostat, if you are looking for a voice control thermostat, the sleek Ecobee is the answer. This smart thermostat is the most versatile gadget to handle your home's heating and cooling systems. It is simply available in the marketplace and easy to set up. It incorporates helpful features such as energy consumption tracking and geofencing. Further than temperature management, it can also sense and regulate indoor humidity to try and uphold an optimal level.
Pros
Versatile design
Voice control
Smart home integration
Cons
Wyze Thermostat
If you search for a thermostat that is easy to install with intuitive controls, then Wyze's is the perfect smart thermostat. The Wyze's thermostat reputation for value-driven of smart gadgets persists with its smart thermostat too. From the bargain price to several additional features, this thermostat is the way to go. Features such as voice control, geo-fencing and sharing access are already included in it.
Pros
Low cost
Geofencing
Shared access
Cons
Nest Thermostat
Another name in the smart thermostat is Nest. As we know, Nest is one of the leading names among the smart thermostats, and it is now part of the Google smart home ecosystem. It has several features that you will fall in love with too. Another feature is its ability to alert you is that if your HVAC is acting up. Moreover, it is the same as the Ecobee as it can track energy usage and give energy saving tips. It comes in several varieties of designs.
Pros
Set-and-forget functionality
Intuitive design
HVAC safety alerts
Cons
Honeywell Thermostat
Smart thermostats can be DIY friendly too. However, many homeowners opt for expert installation and many benefits like the Lyric T10 since it's a robust device controlling temperature and humidification, dehumidification, and ventilation. Consider huge homes with lots of systems. While a pro will install the T10, you'll take over from there during the Honeywell Home app, which has many extra home maintenance features, like reminding you when to modify the filters in your warmth and cooling apparatus.
Pros
Robust home upholding features
Controls temperature, temperature, humidification, dehumidification, and ventilation
Cons
The Bosch Thermostat
With several features that include Alexa integration, The bosch thermostat is a perfect thermostat for your home. It has a giant touch screen that is great for viewing time, temperature, and local weather. As this thermostat is well-matched with most HVAC systems, including heat pumps and conventional systems, it does need a C-wire to power.
Pros
Intuitive screen
Humidity control
Cons
Conclusion
Smart thermostats are one of the most trending and perfect smart gadgets for a home. This gadget can anticipate your arrival and adjust the climate accordingly. These gadgets can easily be controlled from your phones whether you are at home or on vacation. They can easily get connected to your other smart devices, too, such as Amazon Echo and Google Home. Moreover, these thermostats will turn your home more efficient for your environment and your budget.
You may also like to read:
How The Internet Of Things(IoT) Is Changing Businesses
How Safe Are You In Your House
How To Use Amazon Alexa To Keep Your House Governable